S5, Ep. 05: An alarming push to put chaplains in public schools
Amanda Tyler and Holly Hollman discuss SB 763 and their concerns about government-sponsored proselytization in public schools.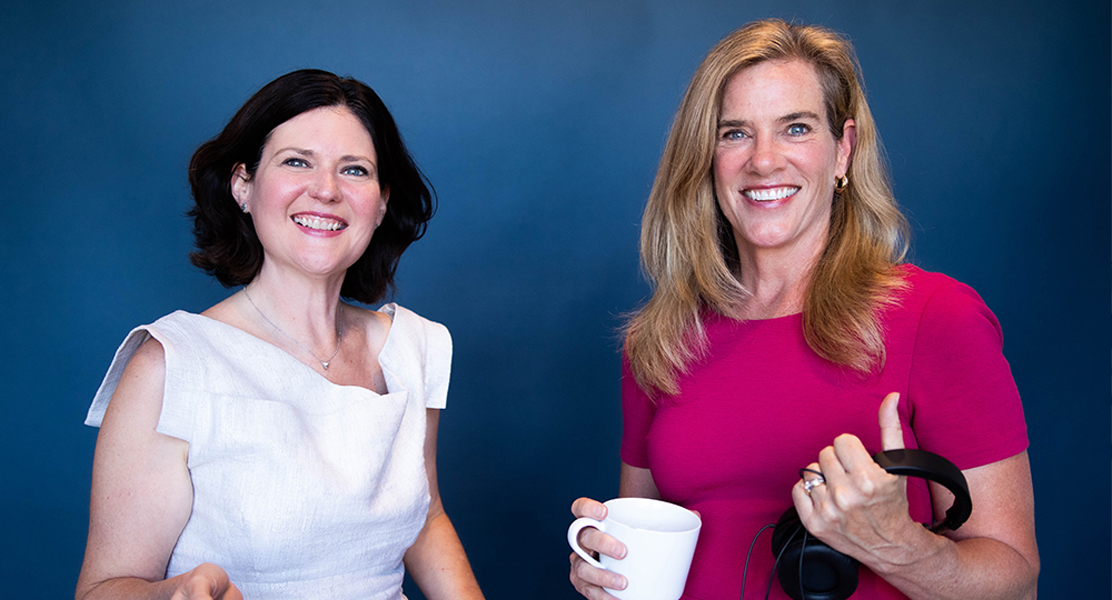 A new Texas law allows public schools to replace counselors with chaplains. In this week's episode, discover why Texas chaplains are voicing their opposition. Amanda Tyler and Holly Hollman discuss SB 763 and their concerns about government-sponsored proselytization in public schools. They discuss the group behind this law and how Texans are resisting its implementation in their local communities. School districts have until March 1, 2024 to vote on creating chaplain programs. The only qualification to serve as a "chaplain" is to pass a criminal background check.
SHOW NOTES
Segment 1 (starting at 1:55): The group behind the push for this law
The Texas Tribune's Robert Downen and Brian Lopez looked into Rocky Malloy's troubling work: Key supporter of Texas school chaplain bill has pushed for evangelism in schools
Segment 2 (starting at 7:07): Texas chaplains respond to this law
You can read the letter from chaplains opposing chaplains in public schools at this link.
Read a story about Texans opposing the school chaplain law in the Dallas Morning News, an op-ed from two Texas clergy in the Austin American-Statesman, or the transcript of a radio segment that aired on National Public Radio. 
Segment 3 (starting at 20:10): What can you do?
Find more information about how to get involved on the BJC website. 
If you're a chaplain living in or educated in Texas, add your name to the letter from Texas chaplains here. 
The petition for Texans of faith opposing law can be accessed here.
The petition for people of faith across the country opposing any attempt to bring public school chaplains to their state can be found here.
Advocates who want information about how to make a difference in their Texas school district can fill out this form. 
A short video about the law and how-tos on advocacy to school boards is available on our YouTube channel. 
Respecting Religion is made possible by BJC's generous donors. You can support these conversations with a gift to BJC. 
Transcript: Season 5, Episode 5: An alamring push to put chaplains in public schools (some parts of this transcript have been edited for clarity)
Segment 1: The group behind the push for this law (starting at 00:31 
AMANDA: Welcome to Respecting Religion, a BJC podcast series where we look at religion, the law, and what's at stake for faith freedom today. I'm Amanda Tyler, executive director of BJC.
HOLLY: And I'm general counsel Holly Hollman. Today we're examining a new law in the state of Texas, known as SB 763 or the "Texas chaplain law." It allows school districts to replace school counselors with untrained and unlicensed chaplains.
AMANDA: We spoke about this law briefly last season when it was debated in the Texas Legislature, but now we're in the midst of debates playing out in more than a thousand school districts across the state of Texas. The law went into effect on September 1, and now each district has six months to decide whether to accept or reject the program for its school district.
HOLLY: To be clear, BJC understands and appreciates the important role of chaplains in many settings. However, we are firmly against putting chaplains in public schools which are not the place for religious instruction. Houses of worship, religious institutions, and families are responsible for religious instruction.
AMANDA: But before we get too far into what's happening now, let's look back on how we got here, which means looking at who is behind this effort. So this law was passed by the Texas Legislature in its regular session last spring, and it really seemed to come out of nowhere. This was not a bill that was being pushed from the ground up, certainly not something that school districts were asking for.
But instead, it was the pet project of a group called the National School Chaplain Association, and Rob Downen and Brian Lopez of The Texas Tribune wrote an insightful deep dive into the work of this group, the National School Chaplain Association, and specifically its leader, Rocky Malloy.
So Rocky Malloy testified before the Texas Senate Committee on Education, and he argued that chaplains could prevent youth violence, teen suicide, and teacher burnout, and he rejected the idea that school chaplains might use their access to recruit kids to Christ.
But what Malloy did not mention in his testimony and what The Texas Tribune unearthed was that for decades, Malloy led another group that promotes school chaplains as a tool for evangelism. Malloy is the founder of Mission Generation, which has been very open about its desire to proselytize in schools.
And, in fact, if one goes to the website GuideStar, which publishes Form 990s for nonprofit organizations, you can find the Form 990 for Mission Generation, and on that form, it asks the question, "What is the organization aiming to accomplish?" And it says, "Mission Generation works through public education to win, disciple and send pre-K to 12th grade youth. The ministry goal is to have 100 million people in discipleship by 2025 by offering the school chaplain program in English, Spanish and Portuguese."
So, you know, we don't have to dig too far to see that the stated aims of this program are not really in line with what this organization has been working for for several years.
HOLLY: Yes. In that article that you mentioned, Amanda ‑‑ and we'll link to that in the show notes ‑‑ Malloy has said that, "The largest network in any country was the school system," which is why he's targeting it for evangelizing. Mission Generation bragged about how it would "influence those in education until the saving grace of Jesus becomes well known and students develop a personal relationship with him."
So what are the organization's key strategies for making this happen? Well, the 990 tells us. On the 990, they say, "There's a massive lack of school counselors throughout public schools worldwide. The strategy is for Mission Generation to fill this void with certified spiritual school counselors and chaplains. Teacher unions and school boards recognize spiritual school counselors" ‑‑ or chaplains ‑‑ "allowing chaplains to have designated rooms for counseling and praying with the students and parents. School chaplains also have the opportunity to share God's word at school assemblies. Teachers, certified as chaplains, receive increased pay and qualify for administrative promotions."
AMANDA: So, Holly, I think that's really important that we understand who's behind this and what is behind this, because it's not, again, something that people were clamoring for. And, in fact, as we've discussed on other episodes of Respecting Religion, religion in the public schools has long been a pretty settled area of constitutional law and practice and understanding.
In fact, we best protect the religious freedom for students by prohibiting ways that might pressure students in matters of religion, and this work of Mission Generation certainly seems like it would qualify as pressuring students with regard to religion.
HOLLY: I think that's important to point out, Amanda, because we are certainly not strangers to bad ideas through the decades of people who would like to use the public schools to advance their narrow religious or political agenda. And maybe we've seen, you know, more more recently and maybe particularly in Texas, but this one, as you said, really did kind of come out of left field. It's not very well connected to the specific need that it says it's trying to address. And so, for good reason, it has been resisted in strong ways, and we're going to talk about that.
Segment 2: Texas chaplains respond to this law (starting at 7:07)
HOLLY: Well, as a Baptist organization, we are certainly not anti-chaplain, and we're glad to be part of an educational effort to talk about who chaplains are. Chaplains are a specific kind of religious clergy, often assigned to a specific institution and typically serving a defined population within that institution.
But they work in response to individual needs, responding to provide access to spiritual care, based on what the individual needs as opposed to coming from their particular tradition, trying to proselytize or bring together one singular religious community.
That is very distinct from the role of most clergy that work in a congregational setting, where you could assume a more unified perspective among those in attendance. We very much value the work of chaplains, and several of our member bodies at BJC have very active chaplain networks. Between Amanda and myself, we have relatives, co-workers, supporters, friends, fellow church members who have been trained in chaplaincy and many who work in a variety of different settings.
And as a matter of religion and the law, we know that providing chaplains also makes sense in some government settings, particularly where access to religious resources would otherwise be denied.
AMANDA: That's right. And that's because ‑‑ you know, some people might be saying, well, isn't that an establishment of religion, for the government to pay for religious clergy? And we then would point to both religion clauses as working together to protect religious freedom. In some of these settings, it would, indeed, deny free exercise of religion for the government not to provide some kind of access to religious resources, because if they did not do so, these people would not otherwise be able to practice their religion.
And so we ‑‑ in thinking about how best to explain the role of chaplains, who better to talk about what a chaplain does than people who actually work as professional chaplains. And so some of those chaplains have come together with a letter, opposing implementation of this chaplain law in Texas, and they have explained where chaplains work and why public schools are not an appropriate government setting for chaplains. And so we will quote from their letter here.
HOLLY: They explain the role of chaplains this way: "Many serve in contexts in which individuals cannot access their religious services, such as the military, prison, or hospital, which is hardly the case for children in public school.
"Military members may have security or language barriers in finding a house of worship while on deployment. Incarcerated individuals are not given a religious hall pass to leave prison and attend a corporate worship service of their own choosing. Hospitalized patients may be too sick or far away from their congregations to engage in meaningful religious exercise.
"Public school children simply do not face the barriers to religious exercise that service members, prisoners, and patients face. Parents or guardians must have the right to choose the religious leaders who will influence their children's spiritual journey. Public schools should not interfere or alter parental decisions in the realm of religious exercise or spiritual care."
AMANDA: I think these chaplains do a really effective job, Holly, in distinguishing chaplains in their different roles. You know, thinking back to Rocky Malloy and that National School Chaplain Association, I think in many ways they were trying to take kind of the good feeling that many of us have about what a chaplain does and just apply that in the public school setting. And so these chaplains really explain why that doesn't work.
And then they go on in the letter, which we'll talk about in a moment, and pointing out other defects of the law and why it would be bad policy to implement in school districts across the state of Texas.
HOLLY: That's right. So this effort on behalf of Texas chaplains by Texas chaplains began over the summer, and BJC worked with our partners at Texas Impact and Interfaith Alliance to kind of organize this letter, to bring the chaplains together, to have this letter from chaplains that could be used in school boards around the state, asking them to reject the option to create public school chaplain programs. And to date, there are ‑‑ what, Amanda?
AMANDA: Well, yeah. Nearly 200 chaplains have already signed the letter, and in late summer, just before the law took effect on September 1, we released to the media the first list of those chaplains, which was about a hundred at the time. And that generated a ton of media interest across the state of Texas.
There were more than 40 unique stories in the news media from El Paso to Tyler, Amarillo, to the Rio Grande Valley, so that ‑‑ if you don't know your Texas geography, that covers kind of the four corners of this very big state. And we are going to link to a few of those stories in show notes here.
But I think the important takeaway from that is that for many Texans, the first time that they learned about this new law was from reading one of these stories. And when they learned about it, what did they learn about the new school chaplain law? That chaplains don't want it. And so I think that that really was an important way for people to pay attention to this troubling law and to have the resources they needed to oppose it when it came before their school district.
HOLLY: I agree. I think it should be very encouraging to Christians in their communities to pay attention and speak out, particularly when people are using their faith to advance things that they shouldn't be, things that aren't needed, when they're being sort of used politically, you know, in ways that can actually harm religion and religious freedom.
So we're going to put the full letter on our website, but today we wanted to at least talk about some of the main points, because I think that can really inform us as we go forward in how to be good advocates in the public square when you see legislation like this that tends to speak for religion and really gets it wrong.
The first problem to point out about this legislation is that it allows a school district to give any employee or volunteer who can pass a background check the title of "chaplain." So this is a terrible idea. Amanda, I know I've heard you call it a problem in search of a problem.
You know, the first thing that hits me is how insulting that is to give this religious title, without any kind of religious training or education, but instead just to sort of use it as a tool in the schools.
So the letter says on this point, quote ‑‑ and it's referring to this lack of any kind of training, nothing more than a background check. It says, "This is simply not enough. Professional chaplains have specific education and expertise to fulfill our role in helping others engage their own religious practices and traditions.
"Typically we are required to have a graduate theological degree and be supported by an approved organization connected to our spiritual tradition. In some settings, chaplains also must have one to two years of full-time experience as a religious or spiritual leader. Many of us are ordained in our faith tradition. Additionally, board-certified chaplains in health care go through a rigorous certification process, pursuing hundreds of hours of extensive training and hands-on experience."
AMANDA: I mean, I think the letter just really points out to how much goes into being a chaplain, and as you point out, the legislature was really insulting the professional status of chaplains by just defining a chaplain as anyone who can pass a criminal background check, really suggesting that there's nothing special about being a chaplain, and anyone off the street could do it. So I think it's really effective that these chaplains are pushing back on that.
The second problem that the chaplains who signed this letter point out is that they as chaplains — even with all of their professional certification and all of their training — that they are not qualified to do the duties that are asked of them in the public school setting, and that's because the legislation envisions that schools could replace their school counselors with school chaplains and/or use their public safety funding to hire school chaplains.
It is a sad reality that given the number of school shootings in the state of Texas in particular, that the legislature felt compelled to give each school funding to protect themselves from a possible gun assailant, bringing guns into the school. And so they're saying, Look, you can use that funding or you can use the funding we give you for counselors and just give it to chaplains.
So in their letter, the chaplains write this: "As trained chaplains, we are not qualified for the duties envisioned by SB 763. We cooperate with mental health counselors. We do not compete with them. Further, professions which help children with sensitive matters, such as therapists and police investigators, typically require special training on how to interview and treat juveniles. Few chaplains have this expertise.
"Finally, using the school safety allotment to pay for chaplains is wholly inappropriate. Chaplaincy programs do not train chaplains on active shooter situations or to be public safety professionals."
HOLLY: Yeah. I think that part of the letter really underscores the manipulation involved in this legislation, a way of advancing these organizations' agenda by appealing, you know, to the fear and very real threat of gun violence. So I'm glad that the letter addresses that head on.
And lastly, the letter addresses the problem of church-state separation, which, of course, is vital to protecting religious freedom in public schools.  The letter goes on to say that, "As trained chaplains, we strongly caution against the government assertion of authority for the spiritual development and formation of our public school children. We would never provide spiritual care to someone without their consent, and when children are involved, parental consent is necessary. Not only are chaplains serving in public schools likely to bring about conflict with the religious beliefs of parents, but chaplains serving in public schools would also amount to spiritual malpractice by the chaplains."
AMANDA: Well, and I think they're pointing out one of many defects in this legislation is that there were amendments offered that would require parental consent. There were amendments offered that would make sure that chaplains did not engage in proselytization or in other kind of religious instructions for the students. Those amendments were rejected by the legislature, and so without those protections for religious freedom, it really is a defective law and one that these chaplains are standing against.
HOLLY: I like that these chaplains are standing up for their profession. They're standing up for the public school students and the important way that they serve people and that they don't want to be involved in this. They don't want to be a tool for the political or religious agenda of these Texas lawmakers who passed this legislation.
And I applaud them for making this point about the religious liberty of the students. We've talked on Respecting Religion a lot about changes in the Court, and we've talked about important cases dealing with religion in the public schools, but there is nothing that would justify this kind of action, placing a clergy member or someone who is, you know ‑‑ holds himself out to be a chaplain in a position that could pressure public school students in matters of faith.
Segment 3: What can you do? (starting at 20:10)
AMANDA: So, you know, I've been talking about this new law, as I travel around the country speaking, Holly, and most audiences that I speak to, even audiences in Texas still, it's the first time they've learned about it. So if you are listening to this podcast, if you are learning about this new law, if you are as horrified about this new law as Holly and I are, then you might be asking yourself, What can I do; how can I get involved? So we want to use our last segment here today to talk about advocacy efforts and ways that you can be involved.
First, for any Texas chaplains who are listening or if you know a Texas chaplain, we would encourage you to visit the link in our show notes where you can read more about the letter that we've quoted from today, sign your name to the letter or pass it along to someone who can sign.
We know that this letter is making a difference in the school board meetings as school boards are taking up this legislation and deciding whether or not they will have a school chaplain program in their schools. We've heard the letter mentioned, and we continue to believe that in many of these settings, chaplains themselves are the best spokespeople for explaining why we don't need public school chaplains.
HOLLY: Of course, we also recognize that most of our listeners are not Texas chaplains, but we want to encourage much broader participation in this advocacy and this kind of advocacy. In the links on the show notes, there are two different petitions to consider.
One is for Texans of faith to express opposition to SB 763. You don't have to be a chaplain to be upset that your legislature is coming to this ‑‑ is trying to influence the public schools by putting untrained chaplains in them, so that's one option.
And then there's another petition for people of faith across the country to write to their state representatives and senators to encourage them not to bring public school chaplains to your state. It's just a way to say, No, thank you; we don't want this; thank you for representing us and for rejecting this kind of bad policy.
AMANDA: And that early advocacy, Holly, is important, because we've already seen this legislation introduced or be kind of rumored to be ‑‑ soon to be introduced in a number of states. A bill has been introduced in Ohio and Oklahoma, so it's important, I think, that people know what's going on in Texas and prevent it from passing at the front end.
But also remember that the way that Texas wrote this law didn't automatically go into effect. Instead, it created advocacy opportunities at more than a thousand school districts across the state of Texas, because each school district has to affirmatively decide whether or not they will start a school chaplain program.
And to date, we have seen about two dozen school boards in Texas take up this policy for a vote, and the vast majority of them have rejected instituting a school chaplain program, and so that is really encouraging to us, because these school boards understand the dangers of having a school chaplain program in their school district. They see that it would divert funding and attention from their important counseling programs and from their public safety, but also that it would infringe on religious freedom for their students and their families.
Those school districts that have rejected the school chaplain program have included large and small districts — urban, suburban and rural — and from all over the state. So this is something that really across the board Texans are showing that they just really don't want them. And those who have voted have, again, cited the chaplain letter, but they have also heard from people in their districts who have raised concerns with them directly.
So if you are listening to this podcast and you live in the state of Texas, chances are that your school district has not yet voted, and so we would ask that you reach out to your school board to express your concerns. We are going to put a link in show notes to an online form that you can fill out for information on how to do that and to join our broader advocacy efforts, and there is also a link in show notes to a short video that you can watch and share with others, including some FAQs on this law and how-to's on advocacy to school boards.
HOLLY: Well, that brings us to the close of this episode of Respecting Religion. Thanks for joining us. For more information on what we discussed, visit our website at RespectingReligion.org for show notes and a transcript of the program.
AMANDA: This episode of Respecting Religion is produced by Cherilyn Guy and edited by Jordan Edwards with editorial assistance from Guthrie Graves-Fitzsimmons and Jennifer Hawks.
HOLLY: Learn more about our work at BJC, defending faith freedom for all, by visiting our website @BJConline.org.
AMANDA: We'd love to hear from you. You can send both of us an email by writing to [email protected]. We're also on social media @BJContheHill, and you can follow me on X, which used to be called Twitter, @AmandaTylerBJC.
HOLLY: And if you enjoyed the show, share it with others. Take a moment to leave us a review or a five-star rating to help others find it.
AMANDA: We also want to thank you for supporting this podcast. You can donate to these conversations by visiting the link in our show notes.
HOLLY: Join us on Thursdays for new conversations Respecting Religion.