Come join us! We need your help in guarding the constitutional protection of religious liberty for all people.
BJC works with Congress and the courts, but it will take all of us to successfully stand up for this freedom. We've got tools, trainings and resources to show you how to use your voice powerfully — whether it's engaging on social media, signing a letter to Congress, educating others about Christian nationalism, reaching out to your lawmakers or taking action in your community. We're in this together.
Four ways to make an impact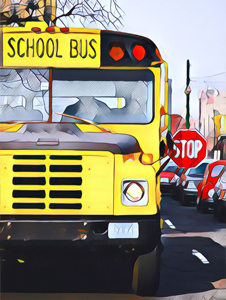 The Texas Legislature attacked faith freedom by letting anyone who can pass a background check be called a "chaplain" and have access to children in the state's public schools.
Texas chaplains are signing a letter to stop these misguided programs in their tracks — school districts have until March 2024 to vote on whether to create these programs. People of faith in Texas are signing this petition to stop the program, and people across the country are working to stop it from coming to their state. Chaplains do important work in many contexts, but untrained and unqualified chaplains have no place in our public schools. No matter where you live, you can help stop these programs.
Join us in rejecting the damaging political ideology of Christian nationalism, which conflates religious and political authority. It implies that to be a "true" American, you must be a Christian and espouse certain types of political beliefs. Conflating religious authority with political authority approaches idolatry, distorts the faith and can justify oppression of minority groups. 
More than 34,000 Christians have signed the statement since 2019, calling out the dangers of this ideology. We invite you to join this movement by sharing the statement and using our resources to educate your community.
BJC supports the Save Oak Flat from Foreign Mining Act, and you can contact your member of Congress to ask them to cosponsor the Save Oak Flat from Foreign Mining Act (H.R. 1351). 
Chí'chil Biłdagoteel, loosely translated as "Oak Flat" in English, is a sacred site for the San Carlos Apache Tribe and other tribal nations. It is currently at risk of being transferred to a foreign mining operation, which plans to use the highly destructive block-cave mining method that will result in the permanent destruction of Oak Flat. BJC sent a letter to the last session of Congress in support of the Save Oak Flat Act (H.R. 1884/S. 915). 
Ways you have made a difference
The BJC Advocacy team is making an impact in our world. Here are just a few ways supporters like you made a difference:
Supporting public money for public schools
During debate over the Parents Bill of Rights Act in 2023, BJC learned there would be a vote on a problematic amendment that would have allowed the diversion of billions of federal tax dollars for private schools and homeschooling. The proposal effectively would have created a nationwide school voucher scheme, sending federal tax dollars to fund religious education and destabilizing public education funding across the country. With just hours notice, we alerted our BJC Advocacy Team to contact their members of Congress and ask them to vote "NO" on the amendment. In an enormous victory for public school advocates, the measure was soundly defeated by a bipartisan vote of 311-113. More than 100 Republicans joined all Democrats in voting no.
Opposing the travel ban
BJC has been an outspoken critic of the travel ban since it began in 2017 when President Trump banned migration from seven majority-Muslim countries, temporarily shut down refugee resettlement and sought to prioritize Christian refugees. On his first day in office, President Biden reversed the Muslim and African travel ban in what BJC called a "victory for faith freedom." We celebrate that important step, but we still have work to do – passing the NO BAN Act will ensure that a future administration can't impose a similar ban. During the 117th Congress, the U.S. House of Representatives passed the bipartisan NO BAN Act (April 21, 2021), a measure supported by BJC.
Calling for repeal of blasphemy and apostasy laws
BJC called for the global repeal of blasphemy and apostasy laws, which stifle religious expression and undermine human rights. The BJC Advocacy Team contacted their lawmakers about the importance of this issue, and in December 2020, bipartisan resolutions passed that called for the State Department and the administration to prioritize the repeal of such laws in foreign policy. These laws still exist in more than 80 countries, so the work continues as we stand with our global neighbors seeking faith freedom for all.
Make a difference online! Your voice matters to your community and your member of Congress.  Use your favorite social media platform to talk about why religious liberty matters. Share your personal story, post photos of interfaith moments, write about the importance of religious diversity at school or get a conversation going about church-state issues in the news.  And, when you're taking a stand, don't forget to tag your elected officials.
Use these tools to take action and lead the conversation
Tell us your religious liberty stories

In big and small ways, we see how religious liberty enriches our lives every day. Tell us what you see, and we may share your story on social media or in our magazine!
Thank you for joining us in fighting for a future that ensures religious liberty for all.